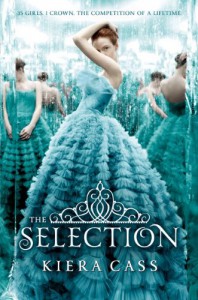 Every time I walk into our local bookstore, I will always notice these gorgeous book covers from The Selection Series by Kiera Cass on the young adult section. They are so catchy and attractive, they are almost impossible to miss. And every time I look at them, there is something that pulls me to touch them. I am not even embarrassed when people see me petting those books.
The Selection follows the story of a 17-year-old girl, America Singer. She is one of the chosen girls who are qualified to join The Selection, a competition of girls in which Prince Maxon (Crown Prince of Illea) is going to chose his future wife. But America is already in love with someone else (Aspen). Despite being reluctant to join The Selection and the pressure from her family, a misunderstanding with her lover forces America to join the competition. Later on, she finds herself competing with 34 other girls who are trying to win Prince Maxon's heart. Moreover, there are group of rebels who frequently attack the palace and threaten The Selection process. Then America finds out that Aspen becomes a royal guard of the palace. With her jealousy arising from the competition and realizing that her first love is also in the palace, how would America deal with all of these? It's for you to find out. ***zipping my lips***
What I really like about this book is the Caste system where each person/family is being assigned with a number based on their status in life. "One" being the highest, which means the Royal family, down to "Eight" being the lowest, which implies the poorest of the society. This is the first time I've read a book with castes so I like it.
I like America's personality. I could somehow relate to her but I'm not like her (Does that make sense?). Anyway, I need more of Maxon. To me he's still a mystery that I'm curious to know more about. The other characters that I am fond of are America's father, May, America's maids and Marlee.
This book contains love triangle, so if that is not your thing you might not enjoy this book. I, myself consider "love triangles" as one of my pet peeves, so there are many scenes here that bother me. If I didn't know the endgame before starting this book, I would not bother with this one. This also reminds me a lot of the US Tv series, "The Bachelor".
All in all, it's an okay read for me. I'm not crazy about it but it is an easy read. The chapters aren't too long for me so I get to finish this book in the span of one and a half days, which only happens when I'm in the mood to read because I'm not really a fast reader.
#I'm a sucker for gorgeous book covers so picking this up is a no-brainer
#Just because I like America doesn't mean that I don't get annoyed with her when she acts stupid, which happens more often