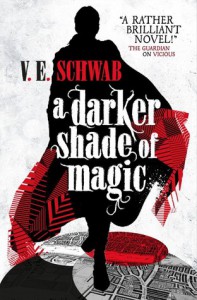 I'm so happy that (finally) Victoria Schwab or V.E. Schwab is getting the attention with her novels. Because honestly, she deserve it.
I marvel how she's able to come up with her plots, especially in this book. It was unique, appealing, and creative. Travelling from different Londons= Unique; The magic system in this book= Appealing; The spells in unique language= Creative. Well, the only thing I was worried about her writing was most of the side characters (usually nice people) in her novels ended up dead. Yeah, I know that couldn't be helped but come on, I was just nervous that whenever I get to have a favorite side character in her novels, he/she would die later in the story.
The first few chapters were a bit slow for me. I wasn't immediately drawn to the story, I was like "When is Lila going to appear?", "Why is it taking long for them to meet?", blah blah blah blah….I was getting impatient.
But the moment Lila appeared, I was into the story. So obviously you already figured that Lila was my fave character, but no offense to Kell, he was also a nice character but I found Lila more interesting. She had me intrigued about her past. So I expected the sequel could give more details about her and of course Kell.
The villains in this story were cruel. They made me cringe at some point. The fight scenes were brutal but very well written.
Then at first, I didn't find the cover appealing but after reading the book, I looked to it now with a different perspective. I found the significance of it and I could say that it was really fitting to the story. The title of was genius, well all of Schwab's novel titles were genius and relevant to the story.
Overall, I gave it 4 stars because there were still a lot of things to discover and some loose ends to resolve since this was just the first book in the series. But the ending was satisfying and it left me craving for more.
If you're into magic, urban fantasy, great and unique world building, romance that is almost nonexistent but the chemistry between the two MCs is undeniable, well, this is for you.
#What I really like about Schwab's books is that the "romance" is not always the center of the story and I find that refreshing
#The Archive series is still my fave of Victoria Schwab…just saying:)